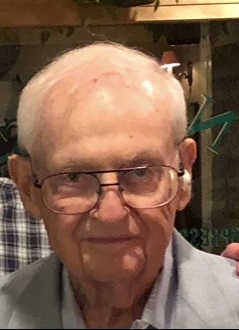 Harvey Rosenberg, loving father, grandfather, husband, and distinguished physician, passed away on November 28, 2018. He is preceded in death by his loving wife of 38 years, Marguerite LaForge Rosenberg, and his son, David L. Rosenberg. He is survived by his son, Lawrence P. Rosenberg, and wife, Mary, daughter in law Julie T. Rosenberg, grandson, Dayton LaForge Rosenberg and wife of 30 years, Jana Simeckova Rosenberg. Harvey was deeply committed to his family. He nurtured and guided them, always with their best interest at heart. In an ever chaotic and ferocious world, he was a rock and our protector.
The youngest of four children, Harvey's path was seemingly set when at the age of five, he met Fred Haufrect, the husband of his sister, Hilda. Fred was a young physician, who served as Harvey's role model.
At the age of 17, Harvey began studies at Ohio State University. Upon the advent of World War II, Harvey joined the Enlisted Reserve. In the first semester of his sophomore year, the Army headquarters at Fort Hayes in Columbus notified him to prepare for induction. After a few days of military indoctrination, a military train took him and his fellow raw recruits south to Fort Benning, Georgia.
In the Fall of 1943, the U.S and its Allies were taking a beating in Europe, Africa, and the Pacific. In planning for a long war, the nation needed trained and educated personnel, particularly engineers. After basic training he was sent to The Citadel in South Carolina as part of the Army Specialized Training Program (ASTP) to study engineering. The Citadel was deeply ingrained with the traditions of the Old South adding to his third culture shock in the barely 12 months since finishing high school: college, the Army, and now the unreconstructed remains of the Confederacy that Charleston held dear. The Civil War had ended 75 years earlier but Charleston seemed not to have noticed.
Aptitude testing of the some 1500 members of the ASTP at The Citadel filtered 75 of them to go on to pre-medical training and compete for medical school. Harvey headed to Vanderbilt and then to Houston, to Baylor Medical School. It was during this time at Baylor that Harvey met and fell in love with Marguerite.
Upon completion of his studies at Baylor, Harvey began an internship at Indianapolis General Hospital, leaving Marguerite behind. Six weeks later, in mid-August, already drained, he realized the pointlessness of enduring all this without Marguerite. She sounded skeptical when he telephoned and asked her to marry him in Indianapolis. Since she knew of his penniless state she was not surprised that he did not have the money to buy their rings. Marguerite sent him $25 for matching gold rings from Rost jewelers in downtown Indianapolis. He never repaid her for the rings. Marguerite never removed her ring; at the end she said it was going with her, and it did. Harvey wore his ring until he remarried.
Upon completion of his internship in Indianapolis, Harvey began residency at Children's Hospital in Boston. In 1950, while in Boston, Harvey returned to the army as part of the Korean War effort. He was stationed at Fort Bliss in El Paso, where in November 1951 his first son, David, was born to the happy couple.
In 1953, Harvey returned to Houston as the first (and only) pathologist at the new Texas Children's Hospital. Later that year, his son, Larry, was born, bringing great joy to the delighted Harvey and Marguerite, and an end to the good life for older brother David.
Time passed. Harvey joined the staff at the University of Texas and Hermann Hospital in 1978, where he continued to work and teach until his retirement in 2017. In between those years came the devastation of losing his cherished Marguerite. In 1988, Harvey was fortunate to find and marry his dear love, Jana.
Harvey received many awards and had numerous accomplishments. The Harlan J. Spjut Award, the Harvey S. Rosenberg Chair in Pathology and Laboratory Medicine, and his work on the annual Perspectives in Pediatric Pathology come to mind. This obituary is lacking, failing to capture Harvey's character and achievements. His family will remember that there was no time, ever, that he did not act with the upmost care to protect and guide them. He watched over us till the end.
Giants once roamed the earth, but no more.
More about Harvey. He was a founding member of the Pediatric Pathology Club/ Society for Pediatric Pathology and served as co-editor of Perspectives in Pediatric Pathology through the first 19-20 volumes. He was President of the SPP in 1978 and presented the Farber Lecture at the 25th anniversary SPP meeting, Boston, 1990. His scientific work in pathology of congenital heart disease was pioneering. He was also at the forefront of expanding understanding of congenital rubella syndrome. Harvey was a wonderful mentor and colleague. He will certainly be missed.